Learn how to make the best Tandoori Chicken in the oven. It has the best tandoor flavors without a clay tandoor oven and is soft, juicy and utterly delicious.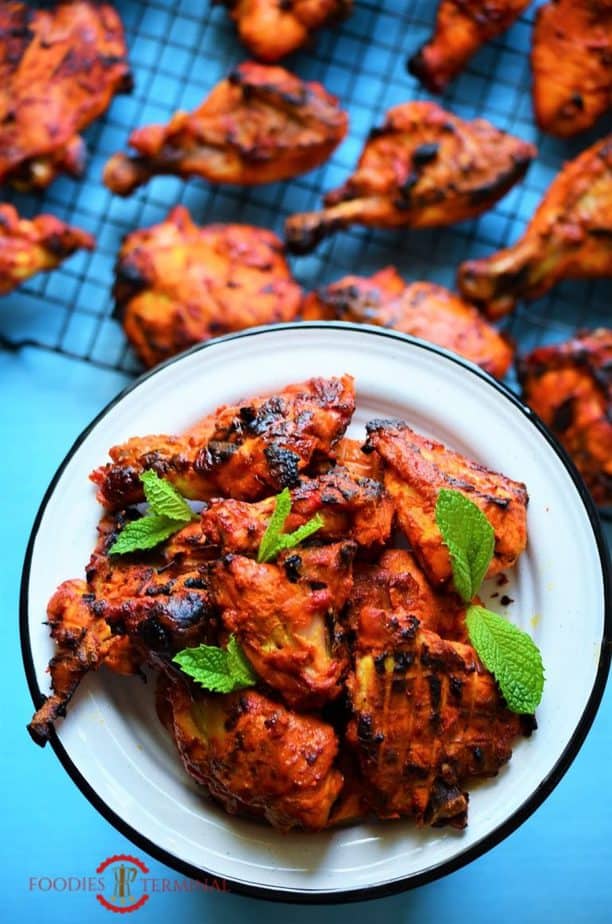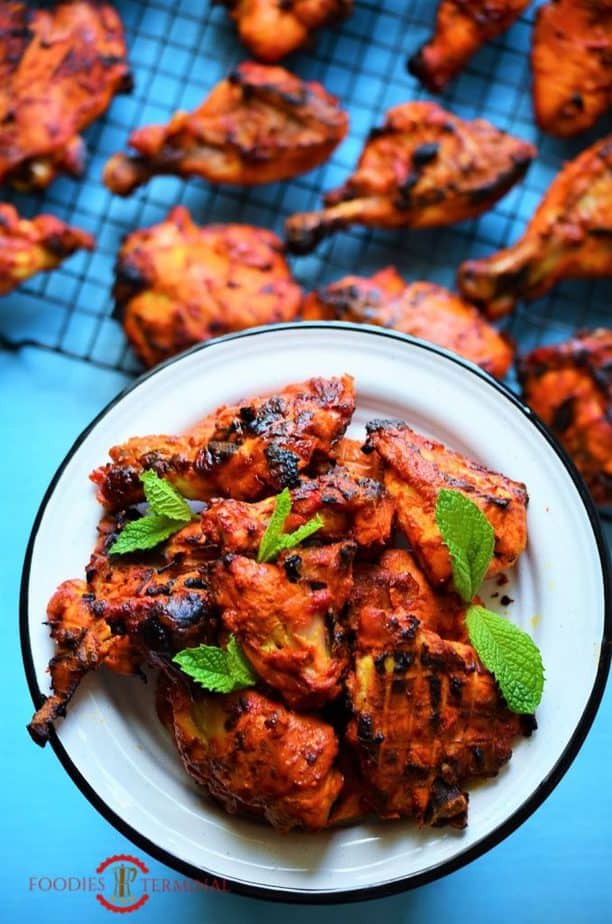 The rocking soul of every party, a popularly loved starter in every Indian restaurant within India and worldwide – It's nonetheless but the lip-smacking heart melting goodness that's confined in marinated chicken pieces, yes I am talking about The Best Tandoori Chicken!
Don't forget to check out our other chicken starter recipes before you leave. Some of the most popular starters include Chicken 65, Chicken Chapli Kabab, Chicken Seekh Kabab, Chicken Boti Kabab, Chicken Reshmi Kabab, Chicken Majestic, Achari Chicken Tikka, Chilli Chicken Dry, Chicken Lollipop and Chicken Roll.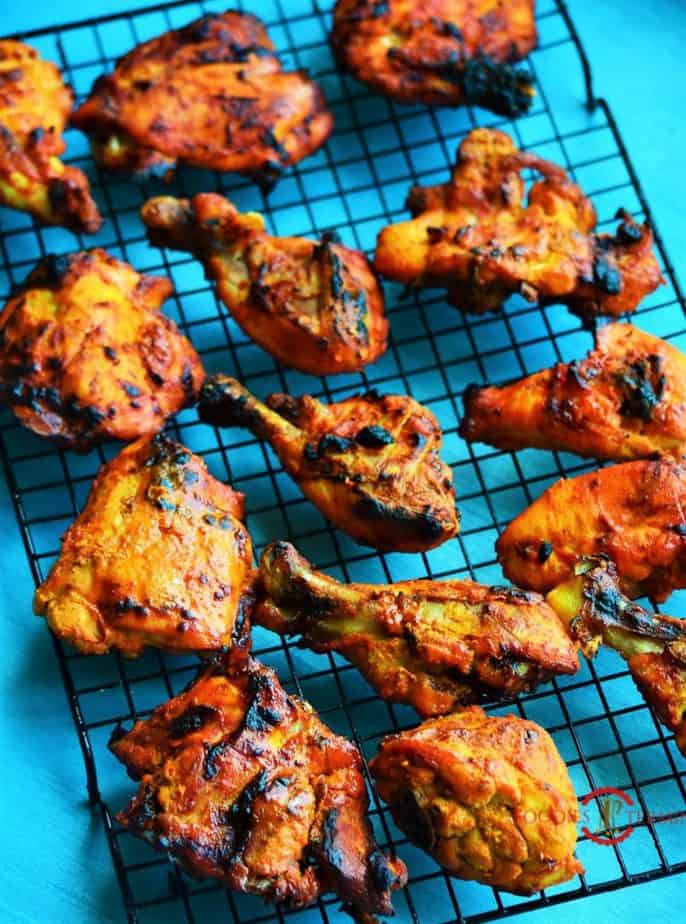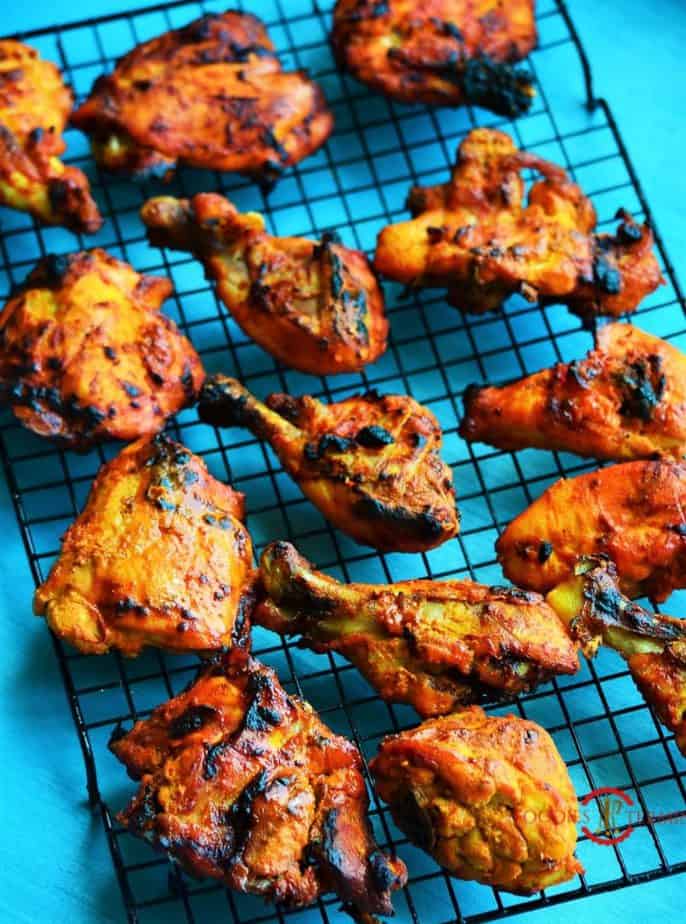 Who doesn't love it? At least I have never ever come across any meat lovers whose face does not light up with the sight and smell of Chicken tandoori! No, you do not need the extremely hot bell-shaped clay tandoor oven to cook a batch of this fiery red chicken tandoori, all you need is an oven with broiler setting or a grill.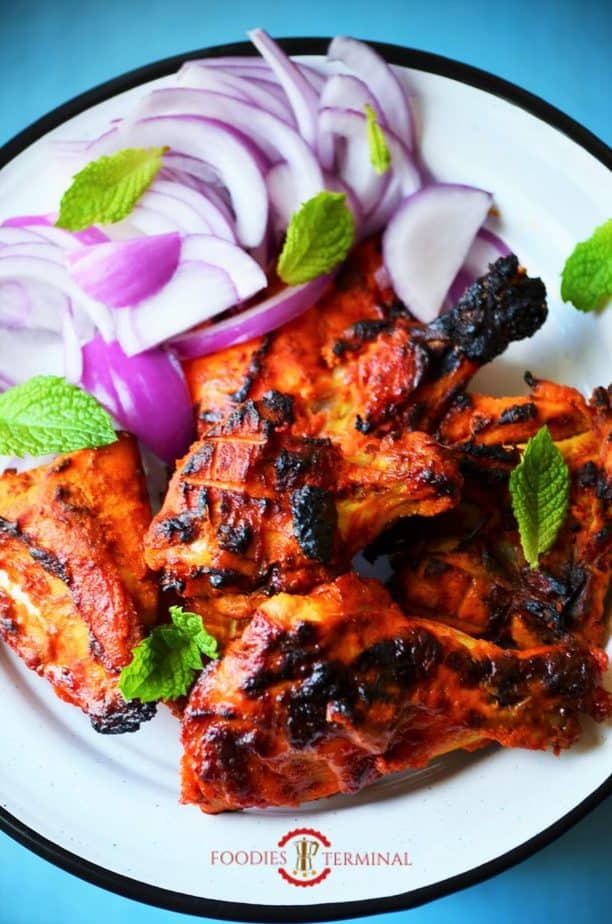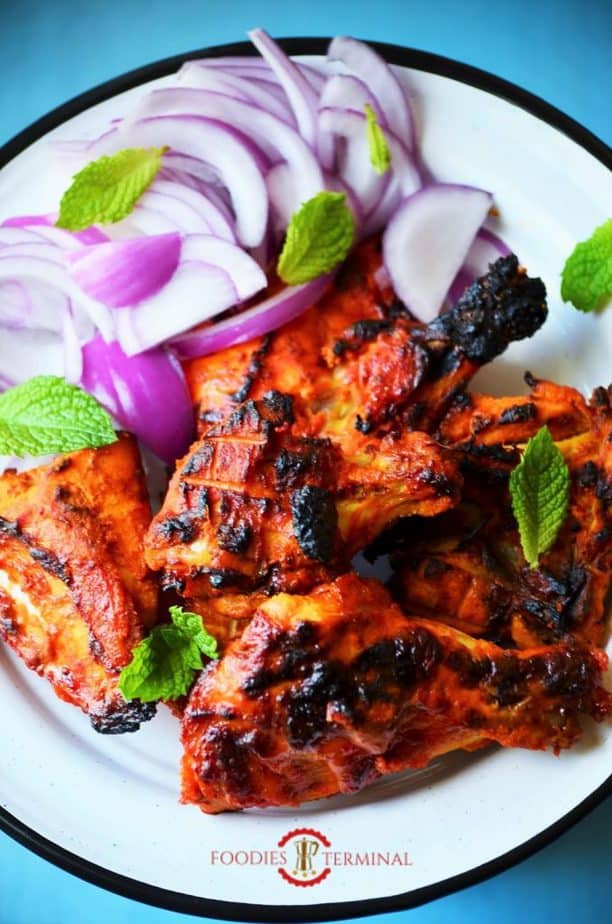 It took me quite some time to develop this lip-smacking taste guys and it was not that easy to attain the perfection, it took me several trials & errors, I knew that I am going to publish the recipe here and so it has to be the best failproof recipe of Chicken Tandoori ever! Because you guys always deserve the best and I did not want to publish a recipe for the sake of publishing. Today I will share with you every little nitty-gritty of the recipe to help you mimic the unique taste of a restaurant or rather even better.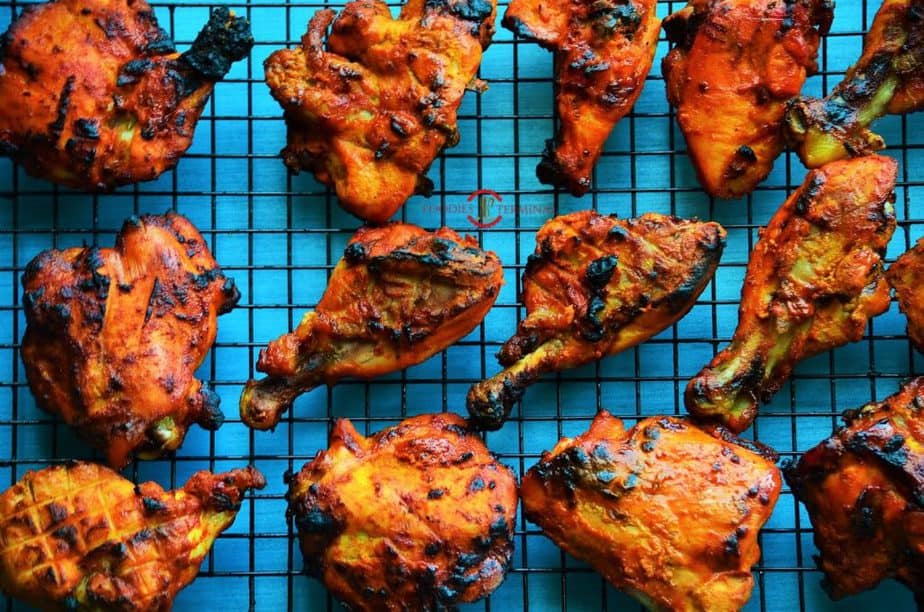 Fascinating tips for making great tandoori chicken.
We love tandoori chicken with all our heart and soul and we are extremely picky about the tandoori recipes at our home. We do not hesitate to proudly shy away from recipes that lack all the attributes of a delicious tandoori recipe. So, here are a few most important points to keep in mind if you want to nail this no-fail recipe at one go :
Firstly, the marinade must be right..fiery, red, with all the right notes. We are not food color lovers so we added quite a bit of Kashmiri red chili powder to achieve the fiery red color. It is a chili powder that's sans the heat.
The taste of the aromatic spices should not be overwhelming. You should restrict yourself from adding too much of spices, this will eventually overshadow the flavors of the rest of the marinade and also the chicken.
The yogurt must be thick. To get thick yogurt you may either use greek yogurt or hang your regular curd in a clean muslin cloth for at least 20 mins.
All the chicken pieces must have the right amount of marinade on them, no gaps please, for this you will need a good amount of marinade.
The marinating time should be at least overnight, this overnight marination will keep the chicken pieces succulent and make them intensely flavored. The juices of the marinade will soak in the deepest layers of the chicken.
Oh yes, do not forget to slash or prick the chicken pieces so that the marinade seeps in easily. Otherwise, the deepest layers of the chicken pieces will taste absolutely bland.
Yes, we love the charred look, it inflicts the best tandoor taste to the chicken pieces. And this step is mandatory in my recipe, skipping this particular taste you will not end up with the best Tandoori Chicken.
Bake them on a wire rack that's placed on a baking sheet. This will prevent them from getting soggy or sweaty. Spray the wire rack with any cooking oil spray before placing the marinated chicken.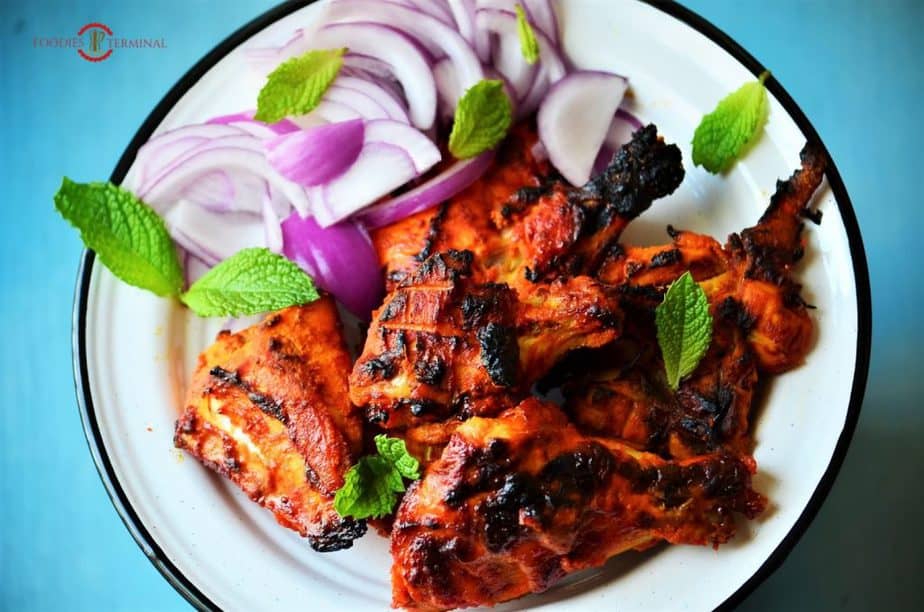 In my household, this particular recipe is a heart throbbing game changer, a life changer & a to-go recipe for every party. It absolutely lightens up the mood & cheers up any dreary day. If you haven't tried Tandoori Chicken as yet I insist you to try this recipe at least once… its unforgettable taste is so supreme that you will instantly fall in love with this recipe and this is the best Tandoori Chicken you will ever have, I guarantee.
Okay, guys, I owe you an explanation because you didn't get a new recipe on the blog for a long one week, I know I know you visited the blog a number of times…. that's because we were off to a magical island known as Put-in-Bay! It was my birthday and Hubbs thought I deserved a lovely vacation. I brought home so many new recipes from the restaurants in Put-in-Bay; I am working on them, once I perfect the exact taste & flavors I will bring them forward to you because you guys always deserve the best recipes 🙂 To name a few I had the best Lamb burger, the best-fried calamari, the best perch burger, the best Jambalaya rice, the best fries…I will remember the taste for the rest of my life!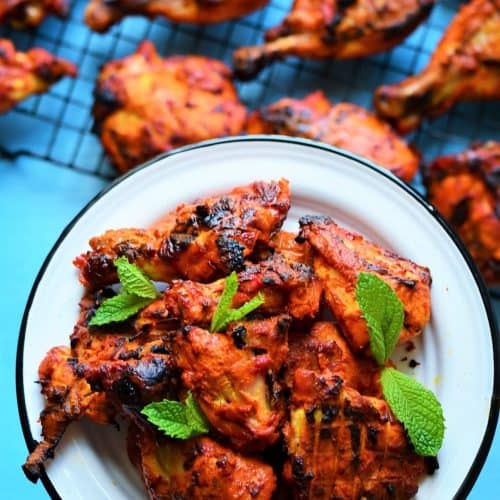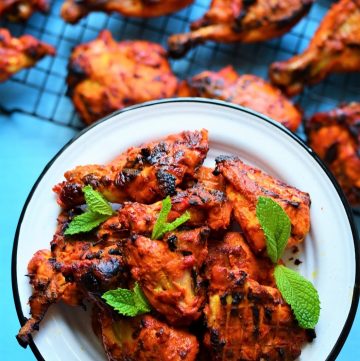 Tandoori Chicken | Chicken Tandoori in Oven
Print Recipe
Pin
Rate
Learn how to make the best Tandoori Chicken in the oven. It has the best tandoor flavors without a clay tandoor oven and is soft, juicy and utterly delicious.
Want more Recipe Videos?
Check out our Youtube channel!
Instructions
Take all the ingredients except the chicken in a clean dry bowl and give a good mix.

Next, add the chicken pieces and coat them well with the marinade.

Cover and allow the marinated chicken to rest overnight in the refrigerator.

Preheat the oven to 375 F.

Arrange the marinated chicken pieces on a wire rack. Place the wire rack on a baking tray and bake for 40 mins.

After the first 20 mins take out the chicken pieces and turn them upside down and bake for the rest 20 mins.

Broil for an extra 5 mins to get the charred look.
Notes
Hung curd or any thick yogurt is a must in this recipe, otherwise, the chicken pieces won't be marinated well and they will taste bland.
Do use the best quality tandoori masala you can afford, this surely does make all the difference.
Overnight marination is a must. I sometimes leave it for 24 hours to marinate.
To get soft and juicy tandoori chicken always use chicken on bones.
Do not use breast pieces or boneless chicken pieces for this recipe, you will end up with dry tandoori chicken pieces.
Do not sub mustard oil with another oil in order to get the authentic tandoori taste.
Always use a wire rack for baking, this will prevent your chicken pieces from becoming soggy and sweaty.
To get the charred look broil it on high for 5 mins. Do not skip this step.
PIN IT!